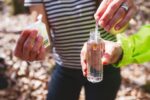 Open Comment Period: WVDEP Public Engagement Guidelines, Wednesday, October 11 by 5 pm: We encourage you to read and comment on the newly released Public Engagement Guide from the WV Department of Environmental Protection. The public comment period ends on October 11 at 5:00 pm. We also encourage you to sign up for the DEP's email list to stay informed on public meetings. Submit a comment here.
Mon Forest Snapshot Day, Sunday Oct. 1 at 12 pm: Join the West Virginia Rivers Coalition at the Stuart Recreation Center in Elkins, WV to Celebrate the 10-Year Anniversary Celebration of the Water Quality Monitoring Program! Volunteers from the WV-VA Water Quality Monitoring Program will gather in the Monongahela National Forest to capture a "snapshot" of water quality in our most pristine headwater streams. They are ordering lunches next week. Please register ASAP to let them know if you'll join them to help monitor our headwater streams. This is a Water Quality Monitoring Event you don't want to miss!
­WV Highlands Conservancy Fall Review, October 13-15: Please join WV Highlands for their Fall Review, where they will look at today's water issues, Friday, October 13 through Sunday, October 15 at Canaan Valley Resort State Park. Topics covered will include sedimentation, the threatened candy darter, acid mine drainage, sewage treatment, small-town water issues, PFAS, water laws and water justice. You'll also enjoy a bird walk, a square dance, a mindfulness walk, and networking with friends, including those you haven't yet met. Want to learn more about our water and be more involved? Join WV Highlands and register today!
Stop Financing the Mountain Valley Pipeline! October is a month of solidarity. The movement to stop the Mountain Valley Pipeline needs your support. The MVP is tearing into our mountains and destroying our homes. Our community is grieving and enraged. But the Protect Our Water, Heritage, Rights (POWHR) coalition believes that through strategy action targeting banks and investors and monitoring of the route, we can defeat this doomed project. Please see the three ways you can help and sign up today!