West Virginia Environmental Council
Action Alert

Urgent Action: Stop the Attack on Solar in West Virginia

Aug 24, 2023
View / Comment Online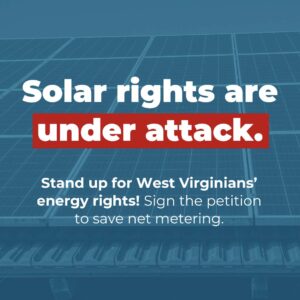 From our partners at Solar United Neighbors and West Virginians for Energy Freedom
Greedy monopoly utilities want to keep you in the dark. They've asked Public Service Commission (PSC) regulators to undermine West Virginia's solar power. You can stop them. Tell commissioners to stop the assault on solar. Sign the petition today!
What is net metering? Solar owners don't always use all of the electricity they generate. In West Virginia, when solar owners produce more than they consume, they receive a 1:1 credit on their bill for every kWh they generate.
This fair compensation is known as net metering. Utilities hate it. They want to prevent solar owners from producing their own power and being fairly compensated for it.
Mon Power and Potomac Edison (FirstEnergy subsidiaries) have asked the PSC to slash in half the credit solar owners get, benefitting these companies and weakening solar policy. Watch Solar United Neighbors' webinar debunking the solar cost shift here.
Net metering is good for West Virginia. Attacks on net metering would steal our right to fair credit for the excess electricity we produce. Pulling the plug on fair net metering would stress our electric grid and stifle economic growth in an emerging energy sector. 
The last thing our state needs is for monopoly utilities to take away more of our energy freedom.
Don't let power companies pull the plug on solar. The Public Service Commission needs to hear from you. Tell commissioners you have a right to fair credit if you have solar. If you don't yet have solar, tell the commissioners to keep net metering in place so that you and your family can one day benefit from solar energy.
Please consider submitting a short video sharing a positive experience you've had with solar and energy credits. Help take a stand for our energy freedom! Submit a short phone video here.
Click here to sign the petition!
 
Check out our calendar for upcoming events and follow us on Facebook, Instagram, and Twitter to stay informed!