The West Virginia Environmental Council
An Effective Voice at the Legislature Since 1989
Who Are We?
The mission of the West Virginia Environmental Council is to facilitate communication and cooperation among citizens in promoting environmental protection in West Virginia, to assist in organizing grass roots groups, to facilitate interaction among established environmental organizations, and to correspond with all appropriate local, state, and federal agencies involved in the management of West Virginia's environment.
In our legislative efforts we work closely with our member organizations.  Sometimes we take the lead on issues.  At other times they take the lead, and we assist in the background. We always acknowledge the efforts of our member groups in our G.R.E.E.N. Newsletter and our Legislative Updates.
Click here for a historical list of WVEC E-Day! Award Recipients
A Few Proud Accomplishments
Legislative Accomplishments: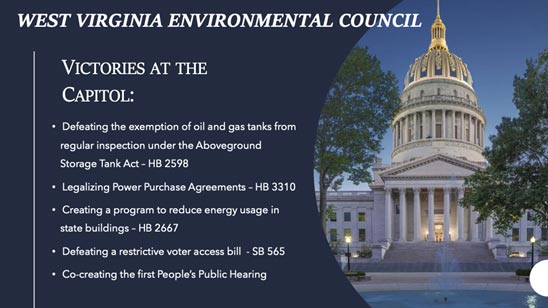 2021:
Legalizing Power Purchase Agreements for on-site solar power . . . 2021
Creating a program to reduce energy usage in State buildings . . . 2021
2020:
Establishing priorities for expenditures for plugging abandoned gas or oil wells . . . 2020
Creating a program to further development of renewable energy resources . . . 2020
Creating Critical Needs/Failing Systems Sub Account . . . 2020
Disposition of funds from oil and natural gas wells due to unknown/unlocatable interest owners . . . 2020
2016:
Revising exceptions from FOIA provided for in Aboveground Storage Tank Act . . . 2016
Modifying certain air pollution standards . . . 2016
2015:
Restoration of "Category A" status to the lower 72-mile stretch of the Kanawha River . . . 2015
Requiring public water utilities to develop and submit source water protection plans . . . 2015
Development of an affordable recycling program for businesses . . . 2015
2014:
Creating the Above Ground Storage Tank Act . . . 2014
Future Fund Bill . . . 2014
2013:
Making the Supreme Court Public Campaign Financing Act a permanent program . . . 2013
Monongahela Act . . . 2013
Complete Streets Act . . . 2013
Some of the Bad Legislation We Have Helped Stop:
2021:
Stopped the exemption of oil and gas tanks from inspection under Aboveground Storage Tank Act . . . 2021
Stopped suppressive voter access bill . . . 2021
2020:
Stopped the exemption of oil and gas tanks from inspection under Aboveground Storage Tank Act . . . 2020
HB4690 – Relating to solid waste facilities . . . 2020
2018:
Stopped State Parks Logging Bill . . . 2018
Stopped The Regulatory Reform Act of 2018 . . . 2018
Stopped the abolishment of Environmental Advocate at DEP . . . 2018
Stopped the Appointment of Industry Advocate at DEP . . . 2018
Stopped bill allowed industrial energy users and manufacturers to negotiate discounted rates at the expense of ratepayers . . . 2018
2016:
Stopped bill allowing well pad and road construction with only a storm water permit for oil and gas activities . . . 2016
2015:
Stopped bill regarding permits for stationary sources of air pollution . . . 2015
Other Accomplishments:
2021:
Co-creating the first People's Public Hearing