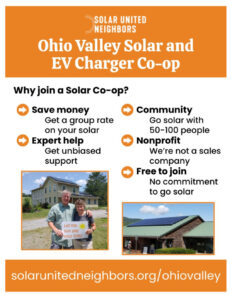 From our partner at Solar United Neighbor
The Ohio Valley Solar & EV Charger Co-op is open to new members! With the help and expertise of Solar United Neighbors, co-op members use their bulk purchasing power to get competitive pricing and high-quality solar installations. There is no cost to join and no obligation to go solar. 
The co-op is open to businesses and residents throughout the northern panhandle in Hancock, Ohio, Brooke & Marshall counties— and has been extended beyond the Ohio Valley to include folks in Monongalia County as well! October 30th is the last date to join!
SUN is grateful to be working alongside many wonderful partners to bring you this co-op including West Virginia Rivers Coalition, WVEC, Morgantown Municipal Green Team, and The West Virginia Electric Auto Association.
Learn more and join the co-op today at: solarunitedneighbors.org/ohiovalley