West Virginia Environmental Council
GREEN Legislative Update

GREEN, Volume 33 Issue 12

Sep 23, 2023
View / Comment Online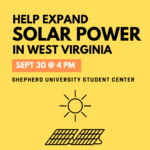 Welcome to our September newsletter! Can you believe we're just 110 days away from the 2024 Legislative Session? Did your heart rate quicken as well?
This edition has several opportunities for you to engage with our mission. Join us in supporting Community Solar and WVEC Lobbyist Lucia Valentine at our Community Meeting in Shepherdstown next Saturday, September 30; the event details are below.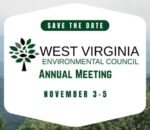 Additionally, we've released the agenda for our annual meeting, November 3-5. Register here.
Watch for our "Countdown to the Capitol" Special Advocacy Newsletter in October. As we approach these final months, we want to emphasize the vital role citizen lobbying plays in advancing our cause. Your involvement is instrumental. If you haven't already, join one of our many initiatives by completing our volunteer survey or emailing info@wvecouncil.org.
Please consider donating or renewing your membership to sustain our year-round lobbying work and campaigns. Your contribution plays a significant role in driving our collective efforts forward.
Thank you again!
---
Click an article title or thumbnail image to read the full article (text below is only an excerpt).
 
Check out our calendar for upcoming events and follow us on Facebook, Instagram, and Twitter to stay informed!