WV Sierra Club, Wednesday, July 19 at 5 pm. The Coopers Rock State Forest Ice Cream Social and Rock City Trail hike is an opportunity to meet WV Sierra Club members and learn about their work in the community while enjoying some homemade ice cream! For more details, see the calendar event here.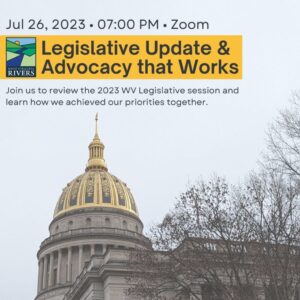 Legislative Update and Advocacy That Works: WV Rivers, in partnership with the WVEC and others, made significant progress on many of our legislative priorities this year. Advocacy is essential to clean water for all, and it's fun! If this seems like something that is up your alley, please join WV Rivers to discuss strategies that build relationships with legislators. Join WV Rivers on Zoom on Wednesday, July 26, at 7 pm to learn how they do advocacy – and how you can become more involved with our efforts. Please register here!
Join WV Rivers on Tuesday, August 1 – 5:30 pm to 7:30 pm for a "Conversation on Headwaters" in the Elkins Town Square (at the Depot) for live music, light refreshments, and information on what WV Rivers is doing to safeguard headwaters in the Mon Forest. You'll have an opportunity to ask questions, get more information, and share your ideas and concerns. For more details, please see the calendar event here. Folks all over the state can now give opinions for providing permanent safeguards to our Mon Forest Headwaters and what concerns you may have about new policies. Whether you can attend the event in Elkins or not – please fill out this 3-question survey.
Care Needed in Wilderness Areas: It's summer, and that means adventures in Wild and Wonderful West Virginia. Both residents and visitors love our special and unique local, state, and national public lands. Care must be taken to ensure that enjoying public lands does not damage irreplaceable lands. The WV Highlands Conservancy, in partnership with the Forest Service, trains Wilderness Trailhead Stewards in Dolly Sods. They educate visitors about protecting trails and wilderness, leveraging goodwill for resource conservation. Learn more here!
Catch up on recorded webinars! Watch our Community Solar 101 Lunch & Learn and WV River's water quality webinars.
Let's work together to preserve the beauty and integrity of West Virginia.