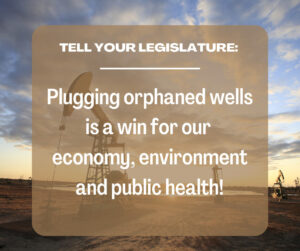 By Lucia Valentine, WVEC Lobbyists
West Virginia has over 6,500 documented orphaned oil and gas wells. An abandoned well is defined as one that has not been produced in 12 months. An orphaned well is one that no longer produces, and the driller has gone out of business. With no operator, the expense and effort to plug them falls to the landowner or the taxpayers. Plugging these wells is estimated at around $125,000 but can depend on depth, age, condition and location. 
Orphaned wells left behind by the oil and gas industry often leak dangerous emissions, like methane, which pollutes groundwater, threatens public health, and contributes to climate change. One study showed that 53% of sampled conventional wells leaked nine cubic feet an hour. Plugging these wells would reduce the amount of methane emitted in West Virginia. 
SOLUTION 
The Infrastructure Investment and Jobs Act passed by Congress in the Fall of 2021 includes historic funding allocated to West Virginia. The Department of the Interior has granted up to $142 million to West Virginia to "plug, remediate and reclaim orphaned oil and gas wells" across the State. 
To fully address and take advantage of the funds granted to the State, the Legislature must pass legislation to prevent more wells from becoming orphaned in the first place. 
ACTION 
Addressing the issue of preventing and plugging orphaned wells is a top priority for the West Virginia Environmental Council, the West Virginia Sierra Club, and other environmental and citizen groups across the State. HB 2852, the Orphan Well Prevention Act, introduced by Delegate Hansen, will be reintroduced in 2024. It would require drilling companies to put enough money away up front to cover the cost of plugging their wells should they orphan them and prevent taxpayers from footing the bill. 
Your legislators need to hear from you!
What Can You Do? 
Advocate for plugging orphaned wells by filling out our Volunteer Survey! We'll match you with meaningful opportunities based on your interests and availability.
Read HB 2852 here.
Watch your inbox action alerts in the coming months.
Please reach out to us with any questions or concerns at info@wvecouncil.org