West Virginia Environmental Council
GREEN Legislative Update

GREEN, Volume 33 Issue 8

Mar 3, 2023
View / Comment Online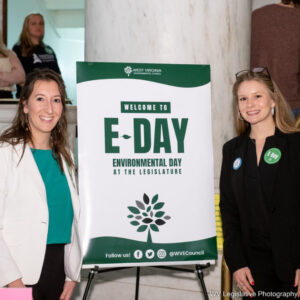 Welcome to our last newsletter of the 2023 Legislative Session!
The session ends at midnight on March 11. We will keep you posted next week via action alerts as we head into the final hours.
As president of the WVEC, I want to express our pride in this year's lobby team. Lucia Valentine, Maria Russo, and Jillian Welsh have done an amazing job at the Capitol this year putting out this weekly newsletter, quickly pivoting to draft action alerts, monitoring committee meetings and floor sessions, and planning for and producing E-Day this past Tuesday.
With this team, it's easy to forget two of them have been on the job only since January (Jillian and Maria), and Lucia joined us last January. It's a weird job, a crash course in all things under the dome that lasts just 60 days. The way they hit the ground running was really amazing. I'm very proud of these three dynamic women.
I also want to thank WVEC Vice President Sandra Fallon, who led the E-Day planning committee, for making our first in-person E-Day in three years happen! Along with her were fellow WVEC board members Greg Carroll and Jenna Breeckner, lobby team members Jillian, Lucia, and Maria, and Dani Parent with WV Citizen Action Group.
Thanks, too, to WV Rivers Coalition for providing educational funding for E-Day, which helped multiple student groups from across the state attend!
Donations from you and our member groups made this year's lobby team a possibility! As the session wraps up, we are transitioning into our year-round presence at interims and other meetings across the state, including developing our 2024 legislative priorities this Fall. Your donation and continuing support will help fund this work and keep us going through the "off" season.
And, finally, thanks to you all, our members, for making those calls, sending those emails, attending E-Day, and helping us financially. We honestly couldn't do it without you!
Stay tuned for our end-of-session recap in a couple of weeks – thank you!
Linda Frame
---
Click an article title or thumbnail image to read the full article (text below is only an excerpt).