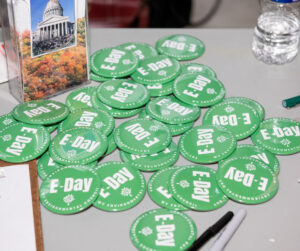 The West Virginia Environmental Council (WVEC) was thrilled to invite environmental advocates, community groups, students, and concerned individuals to the Capitol this past Tuesday, February 28th, for Environmental Day 2023, our first in-person E-Day since 2020. Serving as a voice at the legislature since 1989, WVEC works to advocate for environmental protections across the Mountain State. 
Throughout the day, we hosted a press conference on the importance of community solar, tours of the Capitol, and an energizing rally, where multiple legislators discussed progress on our 2023 legislative priorities. 
Our lobbyists also talked with multiple press outlets, including WV Metro News, WSAZ, and WV Public Radio's The Legislature Today.
We want to thank all of the incredible groups from all corners of the state for being a part of E-Day 2023. The members of these groups work throughout the year to promote environmental justice, protect clean air and water, advance renewable energy, and preserve our natural resources across the state. We invite you to check out these groups' web pages and tap into their campaigns: 
We were also thrilled to welcome student groups from multiple universities around the state:       
You can find photographs of E-Day taken by Perry Bennett, the Chief Legislative Photographer, here.
We hope you will check out this week's Round-Up, which outlines the status of our priorities with bills still moving through the legislative process. 
We hope to see you at E-Day 2024!