From Friends of Blackwater
July 29th, 2020 at 6 p.m. Eastern
The world's oldest and most diverse forests — in the USA, and around the world — are being cut down faster every year. We are losing our planet's most valuable natural protection against runaway global warming — and at an alarming rate! We must protect and preserve the forest ecosystems that keep our planet and atmosphere in balance.
On Wednesday, July 29th, at 6 PM ET, you are invited to attend an hour-long free webinar with leading experts who will present the latest science showing why diverse, intact forests play a vital global role as natural climate solutions.
Please share this invitation with your friends and colleagues who care about the climate and our planet's forests! Thanks!
The webinar speakers are: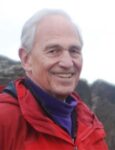 Dr. William Moomaw from the Global Development and Environment Institute at Tufts University. Dr. Moomaw has been a lead author of five Intergovernmental Panel on Climate Change (IPCC) Reports.  His recent paper, "Intact Forests in the United States: Proforestation Mitigates Climate Change and Serves the Greatest Good (2019)," was published in Frontiers in Forests and Global Change.
Dr. Sam Davis (uses pronoun they) from the Dogwood Alliance in Asheville, NC. Dr. Davis is the principal researcher for "The Great American Stand," a new report that examines the forest management opportunities for combating the climate crisis in the United States.
CONTACT US:
FRIENDS OF BLACKWATER
PO Box 247
571 Douglas Rd
Thomas WV 26292
304-345-7663