West Virginia Environmental Council
GREEN Legislative Update

GREEN, Volume 33 Issue 7

Feb 24, 2023
View / Comment Online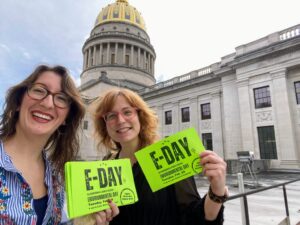 We're excited to share some great news from the West Virginia Capitol! We have seen some significant victories, with two bills passing the House floor and moving on to the Senate for consideration. HB 3110 and HB 3189 are crucial legislation that impact your community positively.
We hope to build momentum and continue to push for positive change with our upcoming Environmental Day at the Capitol on Tuesday, February 28. Register below!
It can often feel like progress is slow and difficult to achieve, but it is essential to celebrate these small victories as we keep moving forward. We are grateful for the efforts of all of YOU and those who have worked tirelessly to make these bills a reality. Next Friday is our last newsletter before the session ends. We expect lawmakers to be in session six days a week, plus evenings. We will provide critical action alerts in the meantime, and our last newsletter will be released at the end of the session.
The WVEC relies on member donations to support our hard-working lobby team. Please donate or renew your membership today to help fund our work these last few weeks! Thank you!
---
Click an article title or thumbnail image to read the full article (text below is only an excerpt).