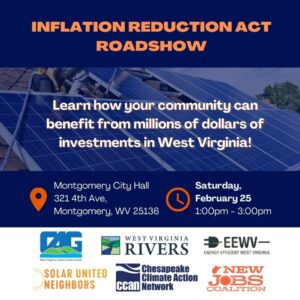 February 25:  Inflation Reduction Act Roadshow
Join the WV Rivers Coalition this Saturday, February 25, at Montgomery City Hall from 1 to 3 pm. Learn how individuals, municipalities, and organizations in West Virginia can benefit from millions of dollars of investments contained in the Inflation Reduction Act. Last summer, Congress passed the Inflation Reduction Act. The IRA includes historic investments in clean energy, energy efficiency and community development initiatives. Learn from experts from around the state about how you can put these investments to use for your home and community.
March 2: EPA to Hold Public Engagement Series on PFAS
EPA Region 3 is hosting a virtual community engagement session next Thursday, March 2, from 6-8 pm. This engagement session will provide information about the EPA's ongoing work under the PFAS Strategic Roadmap and what it means for West Virginia and the rest of the Mid-Atlantic region. Community members can share feedback directly with EPA leaders to inform future implementation actions. More information on EPA's efforts on PFAS is available here. Register to participate in the community engagement session here.
March 2: WV DEP to Hold a Public Meeting on Ethylene Oxide Monitoring
The WV Department of Environmental Protection (WVDEP) announced this week that it had signed a collaborative agreement with Union Carbide Corporation's Institute facility to reduce ethylene oxide (EtO) emissions. The WV DEP has also published its final report on a short-term EtO air monitoring project in 2022. A public meeting on the final report will be held next Thursday, March 2, from 6-8 pm at the Wilson Union Hall on the campus of WV State University in Institute – 301 Washington Ave., Dunbar, WV 25064. More information on the agreement and report can be found on WVDEP's EtO webpage.
March 23: Conversation on Headwaters
WV Rivers has finished its community conversations in Mon Forest Towns about recreation opportunities in the Monongahela National Forest. The message was loud and clear: ensure our tradition of pure, pristine Mon Forest headwaters now and for future generations. On March 23 at 7 pm, WV Rivers needs your input on how best to protect these headwaters and your concerns about any headwaters policy. Bring your questions and concerns. Sign up for your place in the conversation.
Webinar recordings: Four Facts and Three Concerns about YOUR West Virginia Public Lands
Catch up on WV Rivers Coalition's February 16 public lands webinar. Mike Jones, Public Lands Campaign Coordinator, offered some trivia and information about policy issues regarding local, state and national public lands. Learn how to get involved to ensure non-motorized recreation is available for ALL on our Wild and Wonderful public lands: Watch the webinar here.
Webinar Recording: Methane, Climate Change and Proposed EPA Regulations
Over half of West Virginians live within a mile of an active oil and gas well. Methane and other toxic pollution from oil and gas systems pose health risks to the public and worsen climate change. Learn more about the public health and climate impacts of methane pollution in this webinar.