By Lucia Valentine and Maria Russo, WVEC Lobbyists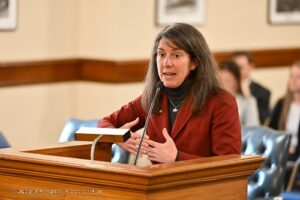 Protecting Our Public Lands from Off-Road Vehicles 
On Wednesday, the Senate Outdoor Recreation committee took up SB 468, initially introduced last week to make Cabwaylingo State Forest into a permanent forest ATV trail system.
The Outdoor Recreation Committee ended up discussing a "substitute bill" that went even further, authorizing all types of off-road vehicles in ALL WV State Forests. 
At Wednesday's committee meeting, WV Rivers Executive Director Angie Rosser testified that keeping these access decisions site-specific is essential to protect our public lands and not displace other users, as has been the case at Cabwaylingo State Forest. Thank you, Angie!
Thanks to the hard work put into opposing this committee substitute bill, the motion to adopt it ended on a tie 5-5 vote. The committee, however, could vote to reconsider the original bill and/or the committee substitute next week. Please message the Outdoor Recreation Committee members to let them know that off-road vehicles don't belong on our public lands!
Join us in thanking the 5 Senators that stood up for our public lands! Call or email them (or both!) to say thank you for keeping off-road vehicles out of our public lands.
To learn more and watch the replay of Wednesday's meeting, click here.
---
Keep Forever Chemicals (PFAS) from Polluting Our Drinking Water 
This week, the PFAS Protection Act, HB 3189, was introduced in the House. This Act has now been introduced in both the House and Senate. The Senate Version, SB 485, has been referred to the Senate Agriculture and Natural Resources and Finance committees. The House version, HB 3189, has been referred to the House Energy and Manufacturing committee. We will continue to monitor these committees as we wait for the bill(s) to be placed on the agenda for consideration. 
How you can help: Please take action now and ask the House Energy and Manufacturing Committee to support the PFAS Protection Act!
---
Urge Adequate Funding for the Office of Oil & Gas Inspectors 
This week, both the House and Senate considered multiple bills that would provide additional funding to the WV Department of Environmental Protection's (DEP) Office of Oil and Gas (OOG) for increased inspection of wells.
In the last few years, the OOG was forced to severely reduce its staff due to budget shortfalls. Currently, OOG only has ten inspectors overseeing approximately 75,000 wells and over 20,000 tanks across the state. That's one inspector for every 7,500 wells. Even when OOG had one inspector per 4,000 wells, scientists found that 53% of a sample of conventional wells in WV were leaking an average of 9 cubic feet of methane per hour.
Senate Bill 448 / House Bill 3110 and SB13 / HB2021 all provide an annual oversight fee per well. Every other regulated industry has to pay an annual permit fee. All bills appear to be moving; your calls are needed next week!
Please see how you can take action! Here is an excellent recap in a fact sheet from WV Rivers Coalition.
Thank you!