West Virginia Environmental Council
Action Alert

Tell Biden: Reject the unjust approval of the Mountain Valley Pipeline

May 22, 2023
View / Comment Online
From our partners at West Virginia Rivers Coalition
Earlier this month, West Virginia Senator Joe Manchin introduced The Building American Energy Security Act of 2023. This legislation changes how federal agencies handle energy projects and takes the dangerous and unprecedented step of requiring agencies to issue all permits within 30 days for the Mountain Valley Pipeline without further public involvement and without judicial review.
Today, we are calling on our supporters to contact President Joe Biden, Vice President Kamala Harris, and Senate Majority Leader Chuck Schumer to tell them that fast-tracking fossil fuel projects puts our communities and the planet at risk.
Tell our leaders in Washington: Reject the unjust approval of the Mountain Valley Pipeline!
After you've signed your name and added your comments, forward the link to your family and friends to ask them to use their voices to stand with West Virginians' rights to fair and equal protection.
In addition, we invite you to join WV River's Autumn Crowe this Tuesday for an update on West Virginia's fight to stop the Mountain Valley Pipeline. During the hour-long webinar, Crowe will detail the ongoing battle against the Mountain Valley Pipeline, the current status of the ill-conceived project, and the immediate actions you can take to support the efforts of activists statewide. 
RSVP for the webinar and stay informed about the crucial fight against the Mountain Valley Pipeline!
Together we have built a powerful coalition. With your continued support, we'll keep growing our numbers to protect access to clean water.
Thank you!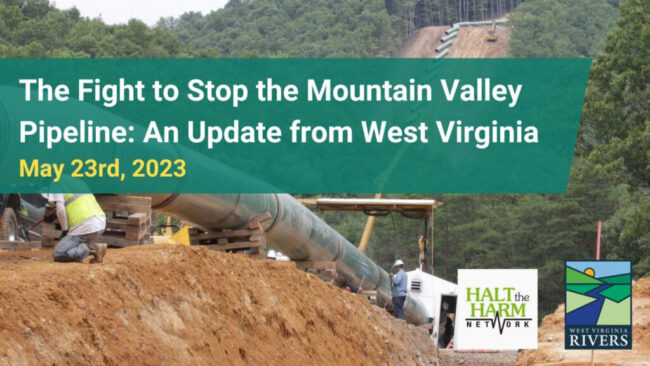 Check out our calendar for upcoming events and follow us on Facebook, Instagram, and Twitter to stay informed!