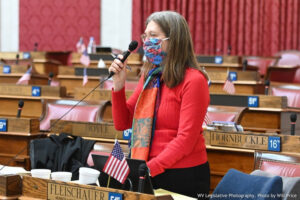 from West Virginia Rivers Coalition
On Wednesday, the Joint Legislative Rulemaking Review Committee met to debate updates to the human health criteria in our water quality standards. This committee meets before the regular session to review, amend and vote on recommended rules for the full Legislature's consideration.
Sadly, even after 494 of you reached out to members of the Committee in support of protective water quality standards, they decided to support less stringent limits for 13 toxins in our water quality standards.
West Virginia Rivers' executive director, Angie Rosser, testified before the committee to make sure your voice was represented.
Angie pointed out the hundreds of you who took action to say no more toxins and cancer-causing chemicals in our waters. While at the committee meeting, Angie learned that this rule had more public interest and participation than any other rule the committee had reviewed.
During her remarks, Angie urged the committee not to increase risk to public health, but to focus on reducing risk. A timely and compelling argument in light of Tuesday night's fatal explosion at the Chemours' chemical plant along the Kanawha River in Belle, WV. The Chemours' explosion is a stark reminder that West Virginians are at constant risk from these dangerous chemicals and the inaction from the WVDEP and WV Legislature to adequately protect their constituents is an affront that should not be overlooked.
Fortunately, there are a few Legislatures who stood up for protective water quality standards. During the committee meeting, Delegates Barbara Fleischauer (D-Monongalia) and Larry Rowe (D-Kanawha) led the charge to fight against weakened standards. They spent over an hour drilling WVDEP on why they only chose a small subset of the recommended criteria to update and for information about the harms and risks these toxins pose to our residents.
Delegates, Fleischauer, Rowe and Senators Baldwin and Jefferies sponsored an amendment to strip out the updates that would weaken human health criteria. That amendment was defeated 4-7, with Fleischauer, Rowe, Baldwin, Jeffries voting for the amendment and Foster, Sypolt, Butler, Martin, Steele, Rucker and Weld voting against it on a roll call vote.
In the final vote to pass the rule, Fleischauer and Rowe spoke against the rule as it would weaken water quality standards. The rule passed 7-4 along the same lines that the amendment failed.
Please take a moment to thank them for voting against weakening our water quality:
Delegate Barbara Fleischauer (304) 340-3127
Delegate Larry Rowe (304) 340-3287
Senator Stephen Baldwin (304) 357-7959
Senator Glenn Jeffries (304) 357-7866
So what now? The full West Virginia Legislature will consider and vote on water quality standards rule when they commence in February. WV Rivers will be there to keep you informed and be your voice throughout the session. The fight for protective water quality standards is going to be an uphill battle, and every one of you will be essential to keeping the pressure on the Legislature. We're going to have to work hard to ensure health and waters are adequately protected – get ready!