West Virginia Environmental Council
Action Alert

You're invited to Environmental Day!

Feb 21, 2023
View / Comment Online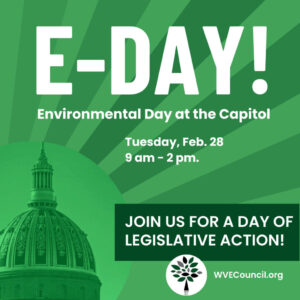 You're invited to our 2023 Environmental Day (E-Day) at the WV State Capitol! Take advantage of this opportunity to advocate for your community!
This year's advocacy day will be held on February 28th from 9 am to 2 pm. E-Day will bring together environmental groups, concerned citizens, and policymakers to discuss critical environmental issues, promote legislation, and build relationships. 
Join environmental activists and legislators in a rally to learn about crucial legislation. Participants will also have the opportunity to tour the Capitol! We have compiled some important information here for those planning to attend.
E-Day is a unique opportunity to support WVEC's legislative priorities and make your voice heard. Register now, spread the word, and let's make a difference together! We look forward to seeing you there!
Thank you,
Sandra Fallon
WVEC Board Member
WVECevents@gmail.com