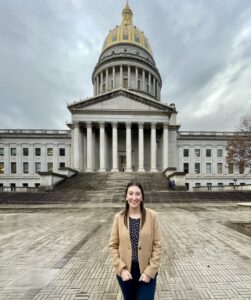 By Maria Russo
Hi, everyone! My name is Maria Russo, and I am a Lobbyist for the 2023 Legislative Session with the West Virginia Environmental Council. 
I grew up on a small farm in Shenandoah Junction, West Virginia and have always cared deeply about protecting the beautiful state we call home. I enjoy hiking, biking, and tubing on the river, just a few of my favorite ways to enjoy the great outdoors! 
I graduated from Brown University in 2018 with two Public Policy and Latin American Studies degrees. Through the years, I have focused my energy on responsible policymaking and fighting for directly impacted people. 
I began my career at the Drug Policy Alliance in New York City, where I focused on supporting restorative drug policy and harm reduction initiatives across the United States. I then went on to work for Mayor Keisha Lance Bottoms in Atlanta, GA, on her criminal justice project: Reimagining the Atlanta City Detention Center Initiative. Across sectors, I have led strategic campaigns, managed large-scale projects, facilitated iterative design processes, and effectively engaged stakeholders with various identities. These experiences have all widened my understanding of politics and policymaking from a local to a national level. 
Most recently, I returned home to West Virginia and began teaching while starting my business: Sistermoon Farm. Through Sistermoon Farm, I have deepened my understanding of regenerative agriculture and reconnected with my community in new and different ways.
I have maintained a commitment to grassroots organizing and a passion for justice throughout my career. While at the West Virginia Environmental Council, I hope to advocate for environmental protections and support positive change in the state of WV. 
I look forward to meeting you and working together! Please feel free to contact me anytime: 
Email: maria.spring.russo@gmail.com
Phone: (304) 433-7376