West Virginia Environmental Council
GREEN Legislative Update

GREEN, Volume 33 Issue 1

Jan 13, 2023
View / Comment Online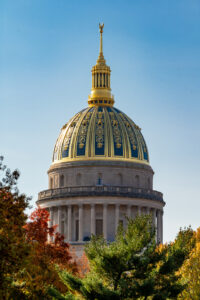 Welcome to the first newsletter of the 2023 Legislative session! All eyes are on the Capitol as we monitor bills to provide clean drinking water, protect our public lands, and lower utility bills by allowing Community Solar on our energy grid.
We are excited to introduce you to this year's lobby team, which includes veteran Lucia Valentine and new lobby team member Maria Russo. We also welcome our communications coordinator, Jillian Welsh, to this amazing team. The session began on Wednesday, January 11, and we are off to a running start promoting our legislative priorities and meeting with legislators to advocate for members like you.
We are excited to announce E-Day will return in person this year on February 28! We hope you will join us by registering at the link in the announcement below. Need a little fun during this time? Enjoy a night of music with Swingstein and Robin at the Empty Glass on Thursday, January 19, from 5:30 – 7:30 PM. All tips will be donated to WVECouncil to help support our work.
Please support our 2023 lobby team by donating or renewing your membership. Most of our budget is spent during the session to fund our lobby team. Please consider donating at our website or sending a check to WVEC, PO Box 1007, Charleston, WV 25324.
We look forward to bringing you the session news every Friday evening, and you can follow us for daily updates on Facebook, Instagram, and Twitter. If you have questions or comments, please get in touch with us at info@wvecouncil.org. 
Go to the WV Legislature's website to listen in on what's happening at the Capitol during House and Senate floor sessions, committee meetings, and public hearings. House and Senate Committee contact information is on our website.
We appreciate your support!
---
Click an article title or thumbnail image to read the full article (text below is only an excerpt).