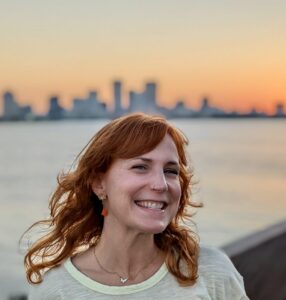 By Jillian Welsh
Hello! I am excited to join the West Virginia Environmental Council as their Communications Coordinator during the 2023 legislative session. 
I moved to Charleston from New Orleans, LA, in October with my husband. I grew up in Massillon, OH and attended Ohio University, where I studied Visual Communications. 
This is my first legislative session, so I am busy learning the issues affecting West Virginia and meeting environmental groups and advocates across the state.
While in New Orleans, I worked as the Volunteer Coordinator for Green Light New Orleans, a nonprofit that provides rain barrels painted by artists to residents in the greater New Orleans area. I enjoyed educating volunteers and community members on flooding, stormwater management, green infrastructure and reducing subsidence.
Before moving to New Orleans in 2016, I worked as a visual journalist at The San Francisco Chronicle in the Food + Home section. I was well-fed and developed a love of gardening and sustainability. During my 13 years in journalism, I also worked as an illustrator and designer for The Orange County Register and The Columbus Dispatch.
Serving my community has always been a priority. I volunteered as a Project Leader for the Young Leadership Council's Recycles program, a nonprofit in New Orleans that engages volunteers to create a more sustainable community through education and service. 
My work and service deeply connected me to New Orleans and its environmental future. I plan to continue that service in West Virginia, and joining the WVEC is an excellent opportunity to fulfill that mission.
On my time off during the session, you can find me hiking, walking dogs at the local animal shelter, taking way too many photos of my cats or working on my newest quilt project.
Thank you for this opportunity to serve our community!