By: Lucia Valentine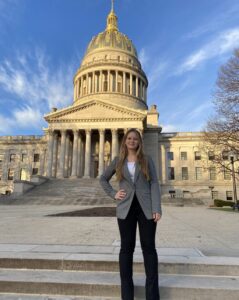 Hello! My name is Lucia Valentine and I am going to be lobbying with the West Virginia Environmental Council during the 2022 legislative session. My passion and work are dedicated to the intersection of climate justice and advocacy. Growing up in Shepherdstown, West Virginia, I am proud to be from the Mountain State and have been no stranger to the negative environmental impacts of heavy industry on my state. 
I graduated from Shepherd University in 2019, where I studied Environmental Science. Upon graduating, I started to develop my career in environmental activism.
I completed a fellowship with Creation Justice Ministries, where I studied faith-based environmental advocacy. I also interned with Our Children's Trust, advocating for the Children's Fundamental Rights and Climate Recovery resolution supporting the principles underpinning the landmark constitutional climate lawsuit Juliana v. United States. My internship afforded me experience in advancing a legal campaign, lobbying Congress, and advocating for children's rights. This work helped develop my skills and enthusiasm for public service and politics as I was called to focus more deeply on issues here in WV. 
I went on to work with ReSet West Virginia during the 2020 election, working to help elect leaders who put West Virginia first. In July 2021, I started working as the West Virginia Organizer for Moms Clean Air Force, an organization working to protect children from air pollution and climate change. Moms Clean Air Force has a vibrant network of state- based community organizers who work on national and local policy issues.
My previous campaign and political work in West Virginia has helped prepare me  for this moment in West Virginia politics and policy. I am eager to help advance the mission of the WVEC by working alongside our member groups to advocate for environmental protections in West Virginia. 
I look forward to meeting everyone! Feel free to contact me anytime. 
Email: luciavalentine10@gmail.com
Phone: 304-579-0434