Thank you from your lobby team!
From me and Kayla to our friends on the West Virginia Environmental Council board, our friends from the member groups, and all of you who helped shore up the work we were doing in the Capitol, a giant THANK YOU!
We had a good time and feel like we did some good work. Despite all of its flaws, the West Virginia Legislature and the Capitol itself are special to us. I can't express adequately how grateful we feel to have worked on these important issues this year.
To keep things light on even the heaviest days, we started a new Instagram account called Cap Fash. You can follow it at www.instagram.com/cap_fash. This was our way of encouraging fun and camaraderie amongst Capitol regulars and visitors. It's a non-partisan, non-snarky look at the various fashions seen around the building. If you know of people lobbying in other state houses, please encourage them to submit their own photos! Or, if you have photos from the Capitol of someone you think pulled off a look, let us know!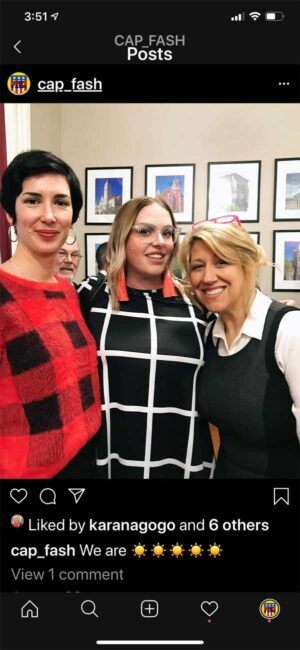 Here's a look at one of our posts, featuring Kayla and I with WV Solar United Neighbors Director Autumn Long, featuring a photobomb from solar advocate John Christenson. I like to call this: black, white, and red all over.
Again, thank you for your support and all of your hard work to make West Virginia's environment one where it's safe to live, work, and stay!