It was a wild week at the West Virginia Legislature! Several of the bills we're following hit Committee agendas and were voted on this week. We have compiled a list of bills along with short summaries for each one and you can check out our report under the Legislative Update article.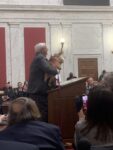 We attended Governor Justice's late State of the State Address on Thursday evening in the House Chamber, which was nothing short of eventful. We saw Baby Dog up close and personal.
We appreciate all your calls to legislators and more action alerts will be coming your way as the session progresses.
Please consider a donation to support the WVEC during this busy time. You can donate online at our website – thank you in advance!
---
Click an article title or thumbnail image to read the full article (text below is only an excerpt).