By: Lucia Valentine
The House Committee on Government Organization held a public hearing on Friday, January 28th on House Bill 2882, repealing the ban on nuclear power. This hearing allowed the public to weigh in on this important issue and discuss what it would mean for our state. We had several of our member groups testify; Conservation West Virginia, WV Citizen Action, WV Climate Alliance, and NAACP Charleston.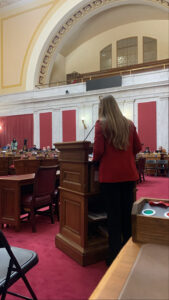 Lucia Valentine gave a statement on behalf of E-council explaining our position on the bill. E-Council has expressed that we do not support or oppose this bill, but are calling upon our legislators to study this issue during Legislative Interims to carefully consider the ramifications that this bill presents to our state, its citizens, our economy and our environment before lifting the ban. There are several key questions we would like to see answered before this bill is passed: How will nuclear waste be disposed of and managed? Will other states be allowed to bring their waste here to WV? Where will these facilities be sited? And, how will citizens be allowed to voice their concerns if a nuclear power plant were to go into their community? While we do believe that it is necessary to reduce emissions and transition to a clean energy economy in WV, we urge our legislators to be sure that safeguards are first put in place. 
During the public hearing on Friday morning, both the Manufacturers Association and WV Chamber of Commerce testified in support of the bill, highlighting the potential positive economic impact that nuclear energy could have on our economy. The Coal Association testified in opposition to the bill as it would create competition with the coal industry. 
HB 2882 and SB 4 will both be on third reading on Monday, January 31st in the House. 
To learn more about this important issue you can check out this recording of last week's webinar, Feasibility of Advanced Nuclear in West Virginia, an event featuring expert panelists discussing the pros and cons of this policy change.