Welcome to the first post-session issue of GREEN! While so much has changed since we last reached out to you, I hope that you and yours are safe and healthy. In these times it is important, now more than ever, for us all to stay connected, and we hope this newsletter helps by playing a small role.
While so much has changed, there is reason for hope. Spring is here, flowers are blooming, trees are leafing out, the days are getting longer, and the hummingbirds are back. Nature reminds us that the cycle of life carries on.
This newsletter is a compilation of articles from our member groups and a place where you can stay connected with what is going on around the state. The WVEC would not be here without them. Please support them how you can – with a donation, a membership, and/or a click on their calls to action.
Thanks to the support of our member groups and our members like you, we plan to hire a part-time interim lobbyist and outreach coordinator (see article). Having a year-round presence in our community is a long-term WVEC goal. Please help us by reading these pages, joining our board, becoming a volunteer, renewing your membership, liking us on Facebook or Twitter or donating. Learn more at wvecouncil.org or email me at lframewv@gmail.com.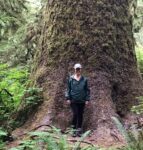 Thank you!
Be well,
Linda Frame
WVEC President
Click an article title or thumbnail image to read the full article (text below is only an excerpt).