West Virginia Environmental Council
Action Alert

Advocacy Webinar and More: Join us on July 26!

Jul 21, 2023
View / Comment Online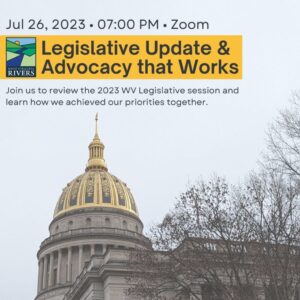 Please join us for WV Rivers' "Legislative Update and Advocacy that Works" on Wednesday, July 26, at 7:00 pm via Zoom, featuring our very own Lucia Valentine as a speaker!
If you're interested in volunteering, this is the perfect opportunity to learn effective advocacy strategies and participate in our efforts. Have you filled out our volunteer survey yet? Now is the time! See our volunteer survey here. There is a new question regarding WVEC's Board of Directors; you can update your survey answers at any time!
In addition, if you missed any recent webinars, don't worry! You can find all the webinar recordings in our latest newsletter. Stay up to date on our campaigns and other upcoming events. Read our July newsletter here.
We look forward to seeing you on July 26! Please fill out the registration form to join the webinar.
See you there!
 
Check out our calendar for upcoming events and follow us on Facebook, Instagram, and Twitter to stay informed!