On Tuesday a rally and press conference were held in the lower rotunda to "demand government accountability for protection of safe drinking water," and to release a letter of solidarity to the residents of Flint, MI from 37 West Virginia groups, including the WVEC.  The event was well attended by sympathizers as well as media.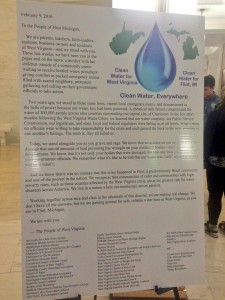 Additional photos are here.
Later in the afternoon, Dr. Rahul Gupta, Commissioner of the State Bureau for Public Health, presented the findings of the Public Water System Supply Study Commission to the Joint Legislative Oversight Commission on State Water Resources.  Evan Hansen, President of Downstream Strategies (and a candidate for House of Delegates), presented the WV Rivers Coalition's perspective on the PWSSSC report's key recommendations.