West Virginia Environmental Council
Action Alert

This Saturday in Raleigh County: Energy Solutions for a Greener Future!

Aug 2, 2023
View / Comment Online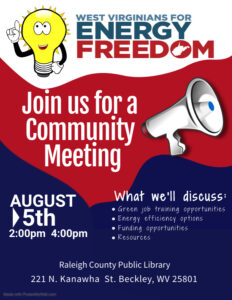 The West Virginians for Energy Freedom coalition is coming to Beckley THIS SATURDAY, August 5th! If you are in or near Beckley, please join us at the Raleigh County Public Library from 2 PM to 4 PM.
Learn how to take control of your energy bills through energy efficiency, renewables, and other energy freedom solutions. We will share valuable resources, green job training opportunities, and funding options through the Inflation Reduction Act. Gain the knowledge and tools necessary to make positive changes to your energy consumption. 
WVEC Lobbyist, Lucia Valentine, will shed light on our work and share how you can advocate bringing community solar to WV.
West Virginians for Energy Freedom is committed to fostering an open and engaging environment. The community meeting will provide ample time for questions, sharing personal experiences, and networking with like-minded community members. Refreshments provided.
Meeting Agenda:
Energy Efficiency: Discover practical tips and strategies to cost-effectively optimize energy consumption and reduce waste, enabling us to cut costs on energy bills while maintaining our lifestyles.
Renewable Energy Options and Updates: Explore the latest advancements and opportunities in renewable energy, including solar. Learn how embracing these options can contribute to a more resilient community and drastically cut our bills.
Addressing Rate Increases and PSC Issues: Gain a comprehensive understanding of recent rate increases and PSC issues affecting the community. Engage in discussions and share concerns to explore potential solutions.
Resources for Energy Freedom: Access valuable information on resources, incentives, and programs available to individuals and businesses seeking to transition to cleaner, more cost-effective energy solutions.
Job Opportunities in Sustainable Industries: Learn how the New Jobs Coalition is actively promoting and creating job opportunities in sustainable industries related to energy efficiency and renewable energy. Discover how these initiatives can stimulate economic growth and benefit the local community.
Thank you,
Jillian Welsh
Communications Coordinator
West Virginia Environmental Council
 
Check out our calendar for upcoming events and follow us on Facebook, Instagram, and Twitter to stay informed!