Thank you to everyone who attended our E-Day event on Wednesday night!. For those of you who couldn't attend, here's a link to our livestream on Facebook. 
We want to extend a huge thank you to our panelists, Angie Rosser with WV Rivers Coalition, Delegate Evan Hansen, Senator Richard Lindsay, and Cory Chase with WV Highlands Conservancy for presenting on the most pressing issues we're following during the legislative session. Thank you so much!
We asked folks to submit their favorite protest songs to play during our intermission during the event, but unfortunately things ran over a bit and we didn't get the chance to play all the songs. We placed them into a playlist for you to listen to on Spotify. Check it out here! Thank you to Sarah Carballo for compiling the list for us!
We also want to congratulate our silent auction winner, Luanne McGovern, on her new signed Ray Harm print! A huge thank you for supporting our lobby team. Thanks to Greg Carroll for serving as our auctioneer!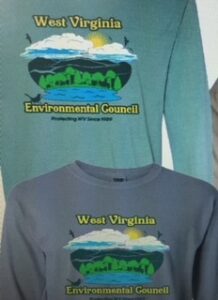 Lastly, we wanted to extend our E-Day offer to get your own WV Environmental Council 2022 T-shirt! Anyone who makes a donation of $50 or more get's one of these lovely t-shirts shipped to teir home. They're super comfortable and our latest design! 
There were several links that were shared in the chat throughout the meeting that we put together for you: 
Action items: 
SB480 – WVDEP Office of Oil and Gas funding: Ensure WVDEP Has Adequate Oil & Gas Inspectors to Protect Our Water (salsalabs.org)
HB2598, Tank bill: Don't Weaken Protections for Drinking Water in the Aboveground Storage Tank Act (salsalabs.org)
Events & more:
West Virginia Rivers Coalition's Virtual Legislative Update on Feb. 24 at 7 p.m. Register here.
Memorializing Frank Young (long-term WVEC board member and treasurer):
Tributes to Frank Young
Remembering Frank Young
West Virginia Highlands Conservancy is on the brink of publishing a Conservation Hub page that will detail the effects of Off Road Vehicles. Keep an eye out at https://conservation-abra.hub.arcgis.com/.