West Virginia Environmental Council
Action Alert

Rally with us: Let Manchin know West Virginia is paying attention!
Dec 21, 2021
View / Comment Online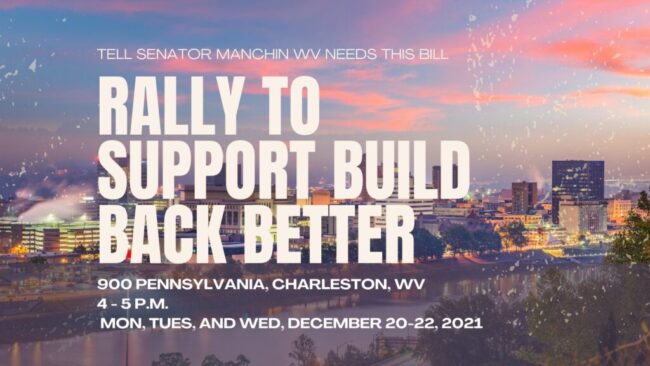 In case you missed it, Senator Manchin revealed over the weekend that he is currently a NO on the Build Back Better Act. This is devastating news for West Virginians – this bill is a tremendous opportunity for the Mountain State. The sweeping legislation will provide tax credits to address the climate crisis; extend child tax credits; provide for reductions in health care costs for seniors; provide assistance for child care; and many other provisions to help West Virginians throughout the state.
We can't let this stand without standing up for our state. Can you join us? Partners from across the state are planning a series of rallies at Manchin's Charleston office – here are the details on how to join us in person: 
WHAT: Rally in opposition to Senator Manchin's decision to oppose the Build Back Better Act
WHERE: 900 Pennsylvania Avenue, Charleston, West Virginia
WHEN: 4 p.m., on Tuesday and Wed, December 21-22, 2021
Can't join us in person? If you can't come, CALL Manchin via www.tinyurl.com/WV4BBB or dial 202-224-3954.
You can also join us online. Senator Manchin has been saying that he "can't explain" the Build Better Back Act to West Virginians – let him know we already understand! Please join us online on twitter and facebook with the hashtag #WestVirginiaKnows – share out why you know that this bill is good for the state. 
Feel free to tag @sen_joemanchin on Twitter to make sure he knows your reasons for supporting the bill.