West Virginia Environmental Council
Action Alert

E-Day at Capitol TOMORROW!!

Feb 27, 2023
View / Comment Online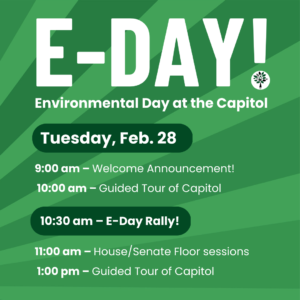 You're invited to our 2023 Environmental Day (E-Day) at the WV State Capitol! Take advantage of this opportunity to advocate for your community!
This year's advocacy day will be held tomorrow, February 28th, from 9 am to 2 pm. E-Day will bring together 34 environmental groups, students and concerned citizens to discuss critical environmental issues, promote legislation, and build relationships. Please stop by at any time to visit our partners' exhibits!
Join environmental activists and legislators in a rally at 10:30 am to learn about crucial legislation. Participants can also tour the Capitol at 10 am or 1 pm! We have compiled some important information here for those planning to attend.
Environmental Day Schedule:
9:00 am – Welcome Announcement!
10:00 am – Optional Guided Tour of Capitol
10:30 am – E-Day Rally!
11:00 am – House/Senate Floor sessions begin. All are welcome to attend!
1:00 pm – Optional Guided Tour of Capitol
E-Day is a unique opportunity to support WVEC's legislative priorities and make your voice heard. Register now, spread the word, and let's make a difference together! We look forward to seeing you tomorrow!
Thank you,
Sandra Fallon
WVEC Board Member
WVECevents@gmail.com