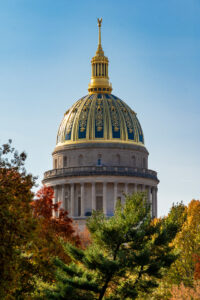 By Maria Russo & Lucia Valentine, WVEC Lobbyists
Coming out of the 2023 legislative session, our team is energized by our progress and motivated to keep up the fight. While we secured some big wins this year, we recognize that a great deal of work remains to ensure the long-term wellness and protection of West Virginia's environment and people.  
This week's session recap is organized by bills passed throughout the session, followed by bills that failed to make it over the finish line. We have summarized each and included the accompanying bill number. 
If you would like further details, please contact us: 
Lucia Valentine at luciavalentine10@gmail.com or 304-579-0434
Maria Russo at maria.spring.russo@gmail.com or 304-433-7376 
Good bills that passed: 
This session's major accomplishment was the passage of the PFAS Protection Act (HB3189). Following Senate Concurrent Resolution 46 in 2020, agencies were tasked with conducting a PFAS study across the state. PFAS (per- and poly-fluoroalkyl substances or "forever chemicals"), which pose severe threats to public health, were detected in over 130 public drinking water sources in WV at levels far above the EPA's health advisories. This legislation provides the next steps for the West Virginia Department of Environmental Protection (WV DEP) to conduct follow-up studies and create action plans to address these chemicals at the sources. We thank our partners at WV Rivers for their steadfast long-term commitment to this legislation and for helping to protect clean drinking water for all West Virginians. 
We successfully secured more funding for the West Virginia Department of Environmental Protection (WV DEP) Office of Oil and Gas (OOG). HB3110 passed, creating consistent annual funding to hire more inspectors and properly manage wells. It will use 0.75% of the severance tax (capped at $1.2 million) and the tiered fee structure (based on how many wells each producer has) to double the OOG funding, increasing the number of inspectors from 10 to around 20. West Virginia has over 75,000 wells and the lowest inspectors-per-wells ratio compared to all surrounding states. While this is a step in the right direction, we will continue to advocate for additional funding to ensure the safe and responsible maintenance of this growing industry. 
Thanks to your calls to protect West Virginia public lands, we successfully re-amended SB468, which continues the Cabwaylingo State Forest Trail System, while prohibiting DNR from "establishing any additional ATV, ORV, or UTV trail systems within state parks and state forests." While connector trails from Cabwaylingo will allow ATVs, ORVs, and UTVs, we were thrilled to defeat any further expansion of these vehicles on our state's public lands.
Bills of concern that passed:
We will keep a close eye on HB2814, the creation of a Hydrogen Power Task Force. While the original bill included the words "clean hydrogen," meaning hydrogen made through electrolysis powered by renewable energy, the final passed version struck the word "clean," suggesting hydrogen powered by fossil fuels. We plan to track the developments of the Task Force and how it prepares for hydrogen expansion in the state of WV. 
We will also closely watch bills relating to Carbon Capture Sequestration. Early in the session, SB161 and SB162 passed, which set the Department of Natural Resources (DNR) up to "lease state-owned pore spaces in certain areas for carbon sequestration." These bills make way for large projects across the state, including a future hydrogen hub. We will track progress and developments on the expansion of pore spaces used for energy projects in the state. 
Good bills that died: 
There were two community solar bills introduced this session, SB627 and HB2159. Enabling community solar programs would promote access to affordable renewable energy through a solar facility subscription service. Customers can purchase an interest in a solar facility and use credits against their electric utility costs. After a consistent effort to garner support for both bills in both chambers, they stalled in their respective committees. In the final weeks, we tried to amend SB627 into the Power Purchase Agreement bill (SB544) but were unsuccessful. We will create a community solar campaign in the "off season" to move this bill forward next year. 
As part of our 2022 Energy Campaign, WVEC advocated for the passage of the "Orphan Oil and Gas Well Prevention Act." Two bills were introduced this year, SB109 and HB2852, to prevent oil and gas wells from being orphaned on surface owner's land with no responsible driller or operator to plug the well. We will continue to monitor the implementation of the incoming federal monies allocated to West Virginia to aid in plugging orphaned wells.The fight is ongoing, and we expect similar legislation to be introduced again in 2024 as the state works to solve the orphaned and abandoned well crisis. 
Bills of concern that died:
The bill to expand nuclear energy, HB2896, by making West Virginia an Agreement State with the U. S. Nuclear Regulatory Commission, was introduced and passed the House but ultimately died in Senate Finance. The bill would have transferred authority and responsibility over sources of low-level radiation from other state agencies to the Department of Environmental Protection and established a more comprehensive regulatory system to control sources of low-level radiation to protect the public and the environment in a single state agency. We successfully removed section F (allowing WV to store nuclear waste) but were glad the state legislature did not take on the over $9 million program. We will watch for this bill in coming years. 
Several pieces of legislation were introduced regarding carbon capture agreements in West Virginia. HB3294 and SB595 made changes to the Managed Timberland Program that would have effectively killed the opportunity and incentive for landowners to enter into these agreements, enabling them to practice stewardship and gain forestry support to maintain their managed timberland. SB739, relating to a moratorium on carbon capture agreements, was introduced and came close to completing the legislative process. However, the House and Senate could not concur after the moratorium language was stricken from the bill, making it so that the only requirement was for agreements to be registered for the state's recordkeeping purposes. 
Two bills were introduced to give the coal industry significant tax exemptions. HB 3304 would have provided an exemption from the severance tax for coal sold to coal-fired power plants in West Virginia. It aimed to encourage and incentivize the sale of thermal or steam coal to West Virginia's coal-fired electric generating facilities by exempting the sale of such coal from the severance tax, a gift to the coal industry. However, this bill had constitutional concerns, as it discriminated against out-of-state coal producers by discounting coal prices for in-state utilities. 
HB 3133 would have created a credit against the coal severance tax to encourage private companies to improve the infrastructure of West Virginia's highways, roads and bridges, costing an estimated $100 million annually in the state's coal severance tax revenue.
Lastly, several zoning bills returned this year, once again attempting to exempt wholesale generators from local zoning codes. HB2459 would have allowed large-scale energy projects (solar, wind, nuclear, coal, etc.) not to follow local zoning codes. An exemption like this takes away protections in residential areas and has the power to change the landscape of communities. HB3446 sought to extend the PSC's jurisdiction over electric generating facilities, exempting these facilities from local control. 
Overall, we are satisfied with the bills we helped to stop and amend. In a year with new legislators, a new super majority, and a political climate that does not lend itself to advancing environmental protections, we are encouraged to see our proactive approach to several bills prevail as we managed to pass legislation that will protect West Virginians and our environment for decades to come. 
While there is still more work to be done, there is power in this movement, and we look forward to working year-round to build momentum for the 2024 legislative session as we work to shape our legislative priorities.
Representing all of our member groups at the Capitol this year was an honor. Thank you for letting us be your voice at the legislature, and thank you to those of you who used your voice to reach out to your legislators. It helps to move the needle more than you know. The work continues!