What's going on, at the Capitol?
Water safety is one of our top priorities during the 2017 WV Legislative Session. In case you missed it, another water bill,
HB 2811
was introduced
on Tuesday
. HB 2811 would add exemptions to the
Aboveground Storage Tank Act
, passed after the
2014 chemical spill
by Freedom Industries into the Elk River that contaminated water for 300,000 in the Kanawha Valley.
---
We have some good news on legislation this week- bills have been introduced in both houses authorizing Local Energy Efficiency Partnerships. On the House side,
HB 2744
is sponsored by Delegate Hanshaw and 10 others, while the Senate equivalent is
SB 480
, sponsored by Senator Blair.
The House version passed through the Political Subdivisions Committee by a 12-8 vote on Tuesday, March 7, 2017. It now goes to the House Finance committee.
---
Saving the Public Finance Option
SB 463
, which would have ended the Supreme Court of Appeals Public Campaign Financing Program did not make it out of the Senate Judiciary Committee
on Monday
. With election spending by outside groups hitting a new high in 2016, there was no reason to be moving backwards on campaign financing, and the Committee ultimately made the right choice.
Now that the public financing program is safe, we should continue to bolster the independence of our judges against big-money influence from out of state special interest groups and instead focus on common-sense disclosure and transparency laws like
SB 64
.
Update on HB 2506
After passing the House last week, HB 2506 is now in motion in the Senate, with a single reference to the Judiciary Committee. Senator Trump convened a stakeholder meeting last Friday to dig into the technical details of the bill. We had the opportunity to correct some misconceptions in that meeting, work that we're continuing to pursue in meetings with Senators.
In case you hadn't heard, other neighboring states don't use harmonic mean streamflow for all pollutants. This means that HB 2506 would put West Virginia out of step with its neighbors, lacking the more protective flow calculations for non-carcinogens that are used in places like Ohio, Pennsylvania, Virginia and Kentucky. In addition, the EPA recommends against allowing mixing zones to overlap, meaning that this bill goes against federal guidance.
Every Senator we've met with has reported receiving many emails and phone calls from their constituents expressing concern about this bill. You are being heard, and your lawmakers are feeling the pressure.
---
Tell Your Senators to Say "No" to HB 2506
URGENT: the WV Senate is likely to consider the Toxic Water Bill, HB 2506, this week. Your Senators need to hear from you now! Send a letter!
Tell your Senators to keep more toxins and cancer-causing chemicals out of our drinking water supplies and vote NO on HB 2506! Calls are also important to reinforce the message – find Senators phone numbers here.
If you've been tracking HB 2506 you've probably heard some misconceptions and false statements about the bill. That's why we've prepared a new fact sheet on HB 2506. We're fact checking some of the most persistent and misleading claims.
The Senate Judiciary Committee will be taking HB 2506 up any day now, we need you to put pressure on them to reject this bad bill. Contact those committee members today!
---
A new attack on the Aboveground Storage Tank Act
HB 2811, introduced on Tuesday, would undercut the protections of the Aboveground Storage Tank Act (ASTA) by exempting tanks holding fluids produced by the fossil fuel industry. The bill would exempt tanks holding  up to 210 barrels (8,820 gallons) and are located outside of a Zone of Critical Concern. The bill is broadly written to apply to all "hydrocarbon" industries, which could mean that fluids produced in association with coal mining are part of the exemption. We are still digging into the details of this bill, and will continue to update you as we learn more.
What we can already guess is that HB 2811 will seriously reduce the number of tanks covered by the ASTA. In a 2015 study by Downstream Strategies and the WV Rivers Coalition, roughly three quarters of the tanks registered under the ASTA were owned by oil and gas companies.
While maintaining regulation on tanks within the Zone of Critical Concern may seem protective, that zone as defined in statute is very small. Only 4% of oil and natural gas tanks were found to be within the Zone of Critical Concern in the 2015 study, compared to a further 40% that fell outside of it but were still within 1000 feet of surface waters. Despite being outside the official Zone, the fact that those tanks will be exempt from ASTA if this bill passes is both critical and concerning.
---
In case you missed it, check out David McMahon's article from The State Journal:
Debating 'Public Use' and Its Worth to Landowners
David McHahon, with West Virginia Surface Owners Rights Organization (WV SORO) says landowners deserve to be paid fairly in eminent domain proceedings.
---
In case you missed it, check out the photos from the Public Hearing on HB 2506 and E-Day.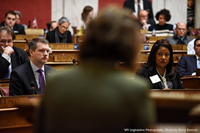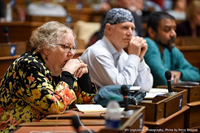 ---
Look for more updates from us as we continue tracking our key issues. We need your help in order to ward off these vicious attacks on our water!
Together, we stand strong and will make our voices heard to help keep West Virginia wild and wonderful for generations to come.