September 24: Statewide Live Teacher/Student Climate Conversation Video conference, 10:30AM – 11:15 AM with WV Delegate Evan Hansen (D, Monongalia) and Speaker of the House Roger Hanshaw (R, Clay) for middle school and high school science teachers and students to ask questions about how elected leaders are working to guide the state forward while addressing climate change. Register here. September 24: People Concerned about Chemical Safety Drinking Water Violations press conference on at 3:00 pm at the Capitol Complex in the Lewis McManus Conference Room, # 252M. The results of a report by the Natural Resources Defense Council on public drinking water violations in environmental justice communities will be featured. West Virginia communities are not strangers to having our drinking water supplies contaminated.  Kanawha and surrounding counties need to only look back to the MCHM spill on January 9, 2014 to remember what that was like.
Speakers will include:
Pam Nixon – People Concerned about Chemical Safety
Delegate Mike Pushkin – Kanawha County
Ricardo Martin – Charleston Branch NAACP
Delegate Evan Hansen – Monongalia County
Angie Rosser – West Virginia Rivers Coalition
Also September 24: fundraiser for WV Citizen Action. Enjoy music and friends at the Empty Glass for a night of live, local music featuring That High Country Revival with special guests Chet Lowther, Trey Kay, Andy Park, and more. Suggested $10 donation at the door. 
September 26: public rally during Climate Strike week to show our elected officials that we want meaningful climate action now!This local Climate Crisis Rally is sponsored by WV Citizen Action and Citizens' Climate Lobby West Virginia at the Robert C. Byrd Courthouse from 5:30-6:30 PM.
October 12: West Virginia Environmental Council's 30th anniversary annual meeting! Gorman Shelter, Coonskin Park in Charleston. Meet the candidates and learn about our legislative priorities for the 2020 Legislative Session. All candidates and policymakers invited to attend. Candidate for Governor Stephen Smith, Candidate for Attorney General Sam Petsonk confirmed, along with Dan Taylor representing Cathy Kunkel's campaign for the U.S. House (District 2). Family friendly, bring a dish to share. $10 registration/$5 for students. Please register here.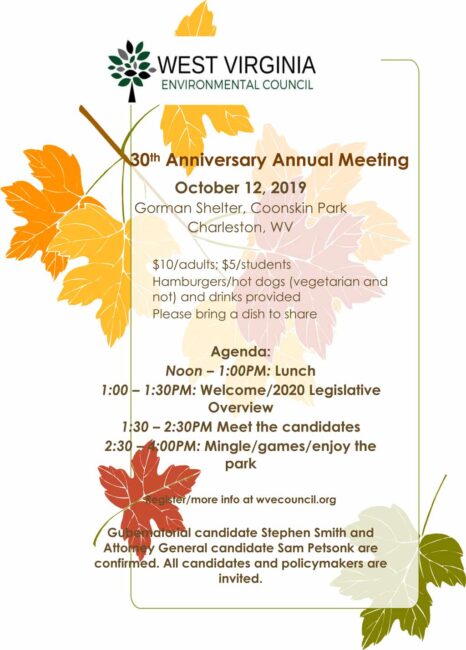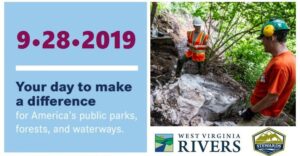 From Our Partners at West Virginia Rivers Coalition:
Celebrate Public Lands in September
September is National Wilderness Month and September 28 is National Public Lands Day and there are so many opportunities to celebrate our wild and wonderful public lands!
On September 28 we'll be holding a National Public Lands Day Celebration with Conservation Legacy at Little Beaver State Park. The celebration features a morning of trail work and an afternoon of recreation, food and music!
Little Beaver State Park, in southern WV, has received over $400,000 from the Land & Water Conservation Fund and is a great example of how LWCF funds benefit West Virginia.
A free lunch will be provided to everyone that comes out to enjoys the park. Trail work registration starts at 9:00am, lunch and entertainment start at 12:00pm.
Our National Public Lands Day Celebration is a great way to get outside and give back to the public lands you love. So, bring the family and care for your public lands while enjoying fellowship, a good meal, and fresh air.
Other events across the state:
September 26:  Greenbrier River Trail Archaeological Excavation
September 28: National Public Lands Celebration
September 28: Forks of Coal State Natural Area Foundation's Floating Nature Walk 
October 5: Forks of Coal State Natural Area Foundation's Discovery Hike 
October 20: Morris Creek Watershed Association Square Dance