West Virginia Environmental Council
Action Alert

Save the Date: WVEC Annual Meeting!

Jul 26, 2023
View / Comment Online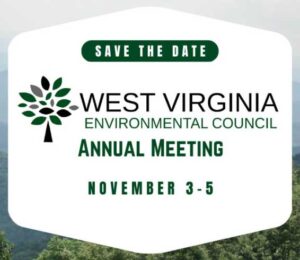 Mark your calendars! We're excited to announce the West Virginia Environmental Council's Annual Meeting from November 3rd to November 5th at Tygart Lake State Park in Grafton, WV.
This gathering promises to be an inspiring weekend as we come together to set our legislative priorities for 2024, strategize for the future, and enjoy some fun outdoor activities. It's the perfect opportunity to connect with like-minded environmental enthusiasts and make a significant contribution to the future of West Virginia!
To make your stay comfortable, we have a block of rooms and cabins reserved at Tygart Lake State Park Lodge for Friday, November 3rd, and Saturday, November 4th. To book your lodging, call 304-265-6144 ext 0 ext 0 and request the "West Virginia Environmental Council block." Enjoy a beautiful view of Tygart Lake from your room, and most rooms include a small deck to savor the natural scenery. Learn more here.
Take advantage of this chance to be part of the WVEC Annual Meeting, surrounded by the natural beauty of Tygart Lake State Park.
If you have any questions, please reach out to us at info@wvecouncil.org.
In case you missed it: We need your help! If you're interested in volunteering, WV Rivers is hosting an "Advocacy that Works" webinar this Wednesday at 7 PM. This is the perfect opportunity to learn effective advocacy strategies and participate in our efforts. Have you filled out our volunteer survey yet? Now is the time! See our volunteer survey here. There is a new question regarding WVEC's Board of Directors; you can update your survey answers at any time!
See you at Tygart Lake State Park!
Best,
Jillian Welsh
WVEC Communications Coordinator
 
Check out our calendar for upcoming events and follow us on Facebook, Instagram, and Twitter to stay informed!