West Virginia Environmental Council
Action Alert

Reminder: Join Us Tonight for Helping Hour in Charleston

Oct 12, 2023
View / Comment Online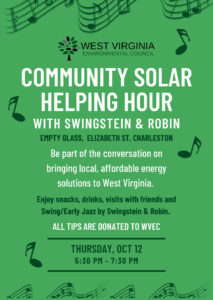 Just a quick reminder about this week's events that we're sure you won't want to miss:
Tonight: Community Solar Helping Hour with Swingstein and Robin
October 12, 5:30 pm – 7:30 pm at The Empty Glass, 410 Elizabeth St, in Charleston
Join us tonight for an evening of music and community engagement as Swingstein and Robin take the stage at The Empty Glass. All tips will be generously donated to the WVEC! Be part of the conversation on bringing local, affordable energy solutions to West Virginia. Share our event with family and friends.
Saturday: Sustainability in Motion Festival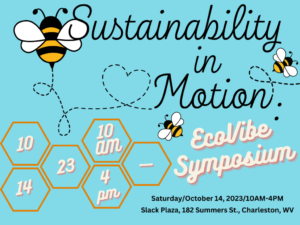 October 14, 10 am – 4 pm at Slack Plaza, 182 Summers St, in Charleston
Join WVEC this Saturday for the first annual Sustainability in Motion festival. It's a day filled with live music, free slushies, and various organizations dedicated to climate justice and sustainability. The ReUse Box Truck presentation by Alex Eaves will surely be a highlight. The ReUse Box Truck is a tiny home made of entirely reused items! Share our event with family and friends.
We hope to see you there!
Best,
Jillian Welsh
Communications Coordinator
 
 
Check out our calendar for upcoming events and follow us on Facebook, Instagram, and Twitter to stay informed!