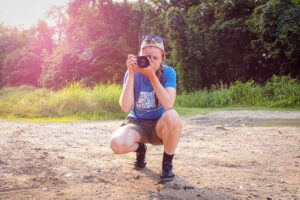 by Sarah Carballo, WVEC Conservation Organizer and Outreach Coordinator
Hi, everybody! My name is Sarah Carballo and I'm pleased to join the West Virginia Environmental Council as the new Conservation Organizer and Outreach Coordinator.
A longtime proponent of environmental and social justice, I earned my Bachelor of Arts in mass communication with a concentration in environmental science from UNC Asheville in 2017. During my undergraduate studies, I served as a member of the UNC Asheville Sustainability Council to promote strategic leadership and support for programs and activities designed to enhance sustainability literacy and engagement, and improve the health of the natural environment. I contributed to many initiatives during this time, including successfully advocating for the U.S. Green Building Council's Leadership in Energy and Environmental Design (LEED®) certification for the renovation of academic buildings on campus with support from the UNC Asheville Board of Trustees and UNC Board of Governors.
Since permanently relocating to West Virginia in 2017, I have dedicated the majority of my professional life to assisting nonprofits and other philanthropic organizations in central Appalachia, including completing a term of service with the Preservation Alliance of West Virginia's Preserve WV AmeriCorps program. Prior to joining WVEC, I worked as a communications specialist with the Ohio Valley Environmental Coalition formerly based in Huntington, West Virginia, where I had the opportunity to work in coalition with WVEC and its members.
I'm excited to continue my advocacy through a supporting role with WVEC and help fight for environmental protection in our state throughout the 2022 legislative session and beyond. Please feel welcome to contact me at (304) 769-9505 or holler@sarahcaitlin.com.