Let's not get caught with our pants down this year!
*You do know industry leaders won't, right?*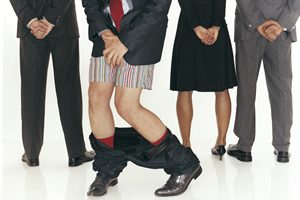 We all know what has happened these last two years in the West Virginia Legislature: as you worked hard to make our state better, others have worked together to damage our waters, our land, and our rights.
This is your best opportunity to stop them.
With your help, we can raise $30,000 to pay for a lobby team to work on your priorities and stop the destructive legislation industry leaders are striving for! Our lobby team will consist of a coordinator, lobbyists, and potentially administrative support. Our Government Affairs Committee is already hard at work putting together a legislative team that will combine experience and new faces.
Can you give $100 to help us raise the necessary funds to have the best lobby team in 2017?  Your contribution will make a huge difference for not only you, but our community and our environment too. Any donation you can afford would be greatly appreciated. Working together for you is why the E-Council is here!
You can donate online here, or mail a check to:
West Virginia Environmental Council
P.O. Box 1007
Charleston, WV 25324
*Please note the WV Environmental Council is a c(4) non-profit, so your contribution will not be tax-deductible.  To make a tax-deductible donation, mail a check to the WV Fund for the Environment at the address above.*
Thank you for your support!
Team WV E-Council