West Virginia Environmental Council
Action Alert

Join the Discussion on Community Solar in WV this Saturday!

Sep 29, 2023
View / Comment Online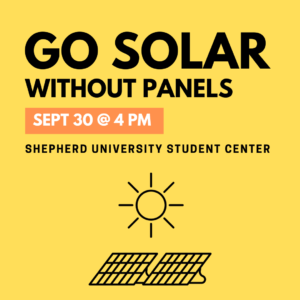 Curious about going solar without installing panels? Join us in Shepherdstown to discuss community solar and its benefits to West Virginians this Saturday, September 30, at 4 pm. Register now.
Discover how it can reduce energy costs, create jobs, and promote and secure energy freedom. Be part of the conversation on bringing local, affordable energy solutions to West Virginia. 
Presenters include:
Lucia Valentine, WVEC Lobbyist
Leah Barbour, Solar United Neighbors
Danny Chiotos, Chaberton Energy.
Take advantage of this opportunity! Register here to join us in person or virtually on the WV E-Council's Facebook page. 
 
 
Check out our calendar for upcoming events and follow us on Facebook, Instagram, and Twitter to stay informed!