West Virginia Environmental Council
GREEN Newsletter

Volume 32 Issue 11
Jul 8, 2022
View / Comment Online
Happy Summer! We are excited to be back with our July Volume of GREEN. This month we are highlighting several events, actions and opportunities to get involved with our member groups. Please be sure to SAVE THE DATE for West Virginia Environmental Council's 2022 Environmental Summit Sept 24-25 in Morgantown. Registration is now LIVE! 
The 2022 Environmental Summit will bring together local and state environmental organizations, activists, and citizens in West Virginia to facilitate conversation around the opportunities and challenges facing the state's environmental movement.
Be sure to register and join us for a West Virginia Fall weekend of discussion, networking, food, music, bird watching, zip lining, and more! 
Click here or on the image below to register and learn more about what's in store!
Lucia Valentine, WVEC
(Newsletter articles are below the summit flyer)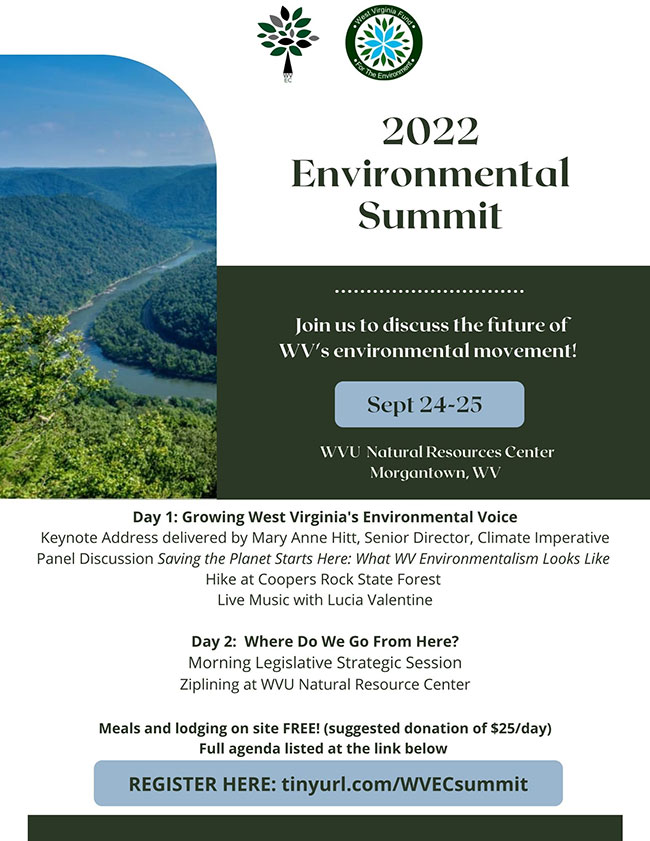 ---
Click an article title or thumbnail image to read the full article (text below is only an excerpt).