West Virginia Environmental Council
Action Alert

Come To The Capitol To Protect Our Public Lands / Candidate Forum In Huntington

Sep 7, 2022
View / Comment Online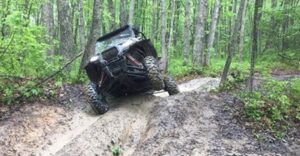 Come To The Capitol To Protect Our Public Lands
The WV Legislature is holding Interim Sessions and the Parks, Recreation and Natural Resources Subcommittee meeting topic is "Presentations regarding use of off-road vehicles (ORVs) in state parks."
We need your help to ensure that the subcommittee members know that we value our state lands and DO NOT want ORV access to these beautiful natural areas. The meeting is on Sunday, September 11 at 5:00 PM. 
Two of the four speakers are from outside West Virginia, and are supported by the ORV industry.  Why are they speaking about our beloved WV State Parks – and what is their agenda?
CALL OR EMAIL THE MEMBERS of the Subcommittee THIS WEEK and let them know that you are opposed to the use of ORVs on our state lands. Feel free to join us in person at the Capitol for the meeting. LET'S MAKE SURE THEY HEAR US!
BILL.HAMILTON@WVSENATE.GOV  304-472-1966
BOB.BEACH@WVSENATE.GOV 304-932-7170
AMY.GRADY@WVSENATE.GOV 304-357-7855
RUPIE.PHILLIPS@WVSENATE.GOV 304-357-7857
RANDY.SMITH@WVSENATE.GOV 681-270-1497
RON.STOLLINGS@WVSENATE.GOV 304-369-6194
DAVID.STOVER@WVSENATE.GOV 304-357-7807
PAUL.ESPINOSA@WVHOUSE.GOV 304-728-8139
CHARLES.HORST@WVHOUSE.GOV 304-340-3148
ZACK.MAYNARD@WVHOUSE.GOV 304-310-1239
CLAY.RILEY@WVHOUSE.GOV 304-844-5679
RUTH.ROWAN@WVHOUSE.GOV 304-492-5790
DOUG.SKAFF@WVHOUSE.GOV 304-340-3240
AMY.SUMMERS@WVHOUSE.GOV 304-842-7958
KAYLA.YOUNG@WVHOUSE.GOV 304-561-4234
---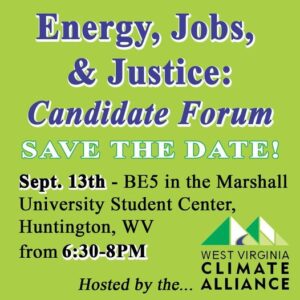 Upcoming Candidate Forum in Huntington
Join the West Virginia Climate Alliance, Marshall University, WV Citizen Action Group, WV Environmental Council, and WV League of Women Voters for a candidate forum on Tuesday, September 13 from 6:30pm to 8:00pm. Stay tuned for additional candidate forums in the Charleston and Morgantown area.
Candidates from congressional district 1, senatorial district 5, and delegate districts 24, 25, 26, and 27 are invited to participate in this non-partisan, educational forum. Voters will have the opportunity to hear candidates discuss the future of West Virginia energy, jobs, and justice through the lens of climate change. Candidates will answer written questions from the public and partner organizations during this moderated event. Refreshments will be provided. Register for free and submit your questions here.