West Virginia Environmental Council
Action Alert

Call Senator Manchin TODAY
& Tell Him to Keep Climate Action in BBB!

Dec 14, 2021
View / Comment Online
From our friends at WV Rivers
Show Senator Manchin That West Virginians Want Climate Action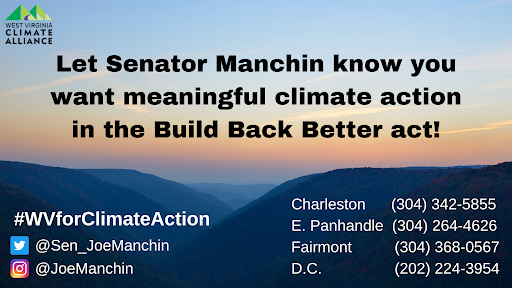 Join the West Virginia Climate Alliance TODAY for a statewide day of action on meaningful climate policy in the Build Back Better Act.
Our own Senator Manchin has the opportunity to ensure historic climate investments are made that will protect our state from the worst climate impacts and bring economic development to the region.
As the legislation is being finalized, it's imperative that you let Senator Manchin know that climate action must be kept in the final bill.
Be part of the day of action!
Here's how to get involved:
Share why you care about meaningful climate policy on social media using the hashtag, #WVforClimateAction. Tag the senator in your post. 
Twitter: @Sen_JoeManchin
Instagram: @JoeManchin
Facebook: @Senator Joe Manchin III
Call Senator Manchin's office, 202-224-3954, and share your message.
Send an email to Senator Manchin.
Thank you for using your voice to call on Senator Manchin!