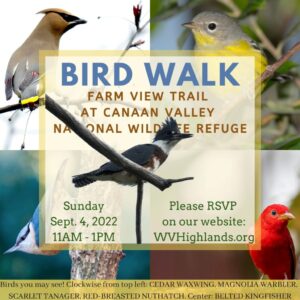 WVHC BIRDING OUTING: Bird Walk on Farm View Trail
DATE: Sunday, September 4, 2022 (Labor Day Weekend)
TIME: 11 AM – 1 PM
LOCATION: Farm View Trail @ Canaan Valley National Wildlife Refuge trailhead. Parking at the end of Beall Lane, Davis, WV 26260.
TRIP LEADER(S): LeJay Graffious 
TRIP DESCRIPTION (difficulty, distance): Easy. A relatively flat walk out and back along Farm View Trail with bird viewing along the way. Please come prepared with sturdy footwear, water and a snack. 
---
West Virginia Highlands Conservancy Annual Fall Review 2022
EVENT DESCRIPTION: Join us for a weekend of an in depth look at ENERGY in WV, as well as some fun outings. Speakers on hydrogen, solar, nuclear, FERC. Mention that you are coming to our Fall Review for a bulk room rate. 
DATES: October 14-16, 2022
TIMES: TBD but approximately FRIDAY: pavilion supper 5PM-9PM. Saturday: All Day: outings, presenters and energy panel. SUNDAY: 8am-2pm morning outing, quarterly board meeting and election of officers.
LOCATION: North Bend State Park, 202 North Bend State Park Rd, Cairo, WV 26337