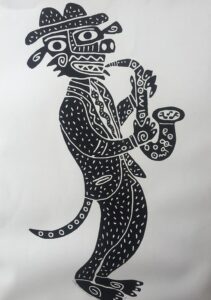 The WVEC's annual E-Day will take place virtually tomorrow night, Wednesday, March 10, from 6:00 – 7:30 PM.
The agenda includes live music, a live auction of this Charly Hamilton print, and live updates from legislators and our lobby team on what to look for as the 2021 Legislative Session reaches its halfway point. (Spoiler alert: we will need your continued help to defeat some harmful legislation and to urge passage of some really good bills.)
Registration is free but required. Suggested donation of $10.00 to support our lobby team.
See you tomorrow!
Linda Frame
WVEC President
---
E-Day Agenda
March 10, 2021, 6:00 – 7:30 PM
6:00 pm:  Welcome and Introduction to virtual E-Day! (Linda)
6:10 pm:  Kick-off Live Auction of Charly Hamilton print
6:15 pm:  Legislative Recap:  What is the latest at the Capitol?
(panel moderator: Hannah King, WVEC lobbyist)
Angie Rosser – West Virginia Rivers Coalition
Delegate Evan Hansen
Delegate John Doyle
6:30 pm:  What YOU can do – WVEC Lobby Team and Panel
6:45 pm:  Live Music and Live Auction of Charly Hamilton print!
SANDY SOWELL AND GERRY COLLYARD 
Sandy Sowell and Gerry Collyard have enjoyed playing music together for many years. Gerry is a luthier, who repairs and builds fine string instruments. He made the octave mandolin that he will be playing. Sandy plays the bass and is best known as a member of the Putnam County Pickers, and for her lead roles, such as Evita and Mame, with the Charleston Light Opera Guild. They are also married….to each other.
6:50 pm:  Final bids on Charly Hamilton print – will you be the winner?         
7:00 pm:  Live Music
STEPHEN HIILL – Steve joined Mountain Stage band as base player in mid-1990s and continues there today.  Steve says, "Playing for Mountain Stage is magical; not only does he get to hear great music every week he, often gets to play exciting, challenging music with artists he admires–when they rely on the MS band for back-up. It may be the best gig in music!
7:10 pm:  Open discussion: Questions for legislators and WVEC lobby team, discussion and announcements from attendees and member groups  (Sandra Fallon – WVEC Vice President)
7:30pm:  Closing & Adjourn