West Virginia Environmental Council
Action Alert

Rally to Protect Upper Cheat Headwaters

Apr 13, 2023
View / Comment Online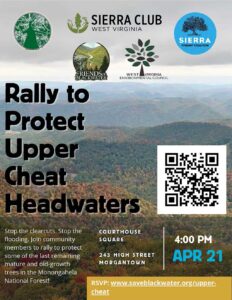 From our partners at Friends of Blackwater
Stop the clearcuts. Stop the flooding. Join community members on Friday, April 21, for a rally to publicly demonstrate our support for protecting some of the last remaining mature and old-growth trees in the Monongahela National Forest! RSVP today!
When: Friday, April 21 4:00pm
Where: Courthouse Square, 243 High Street, Morgantown, WV
The Upper Cheat River logging project on The Monongahela National Forest proposes to clear-cut 3,463 acres of mature hardwood forest in the Upper Cheat River Headwaters. In addition to the loss of habitat, increased flood potential, and loss of carbon storage from mature trees, the project will not profit; it will cost taxpayers $1.4 million. Two-thirds of the targeted stands are over 100 years old, with some trees older than 200 years.
One year ago, President Biden issued an Executive Order to protect mature forests largely due to their carbon storage and climate benefits. But the Forest Service has done little to implement that Order and instead wants to keep cutting.
You can help protect our forests and preserve climate benefits. Bring signs, or some will be available. Bring friends and show your support for mature forests and climate stability! 
Register and volunteer to help!
---
WVEC's next newsletter comes out in May! In the meantime, check out our calendar for upcoming Earth Day events and follow us on Facebook, Instagram, and Twitter to stay informed!