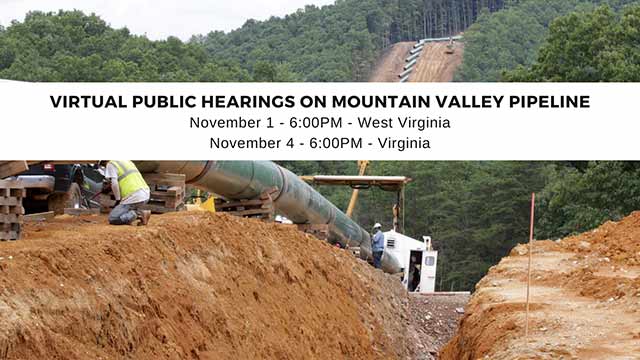 The Army Corps of Engineers will be holding virtual public hearings on the Mountain Valley Pipeline for residents in West Virginia and Virginia.
These hearings are on the pipeline's request to cross streams and wetlands – which means activities that dredge stream beds, dam creeks, drill under rivers, and destroy wetland soils.
Read our fact sheet on the virtual public hearing and example comments.
Don't allow industry to speak for you! We need to show the Army Corps that West Virginians and Virginians have valid concerns about the water quality implications of the pipeline. We can guarantee that the pipeline company, and proponents of the oil and gas industry will speak during the hearing. Don't let them be the only voice! 
You must preregister to join the virtual public hearing. To register:
Email CELRP-MVP@usace.army.mil with subject "RSVP to Speak at West Virginia Public Hearing" or "RSVP to Speak at Virginia Public Hearing" include your full name, email address, and contact phone number with area code. 
Worried about what to expect during the hearing? We've got you covered! We'll be holding a public hearing prep session on October 26 at 7:30PM.
During the prep session we'll share information on:
how virtual public hearings work, 
what to expect during the hearing,
how to prepare your comments, and
what happens after the hearing is over.