West Virginia Environmental Council
Action Alert

Ensure WVDEP has Adequate Oil & Gas Inspectors to Protect Our Water
Feb 14, 2022
View / Comment Online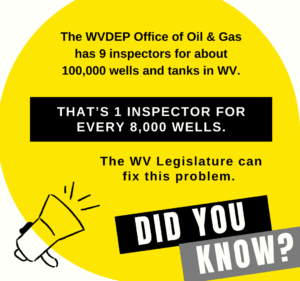 From our friends at WV Rivers
The DEP Office of Oil and Gas (OOG) has been forced to severely reduce its staff due to budget shortfalls. Currently, OOG only has 9 inspectors overseeing approximately 75,000 wells and 28,000 tanks across the state. That's 1 inspector for every 8,000 wells.
The West Virginia Legislature can fix this problem. Legislators can advance bills that ensure the WVDEP Office of Oil & Gas receives the resources required fulfill its mission to regulate and inspect oil & gas activities. 
Currently, there are two bills in the Senate Energy, Industry and Mining Committee that address this problem, SB 480 and HB 2725. Read our fact sheet on the bills.