The "Y" may be missing, but make sure "U" aren't too!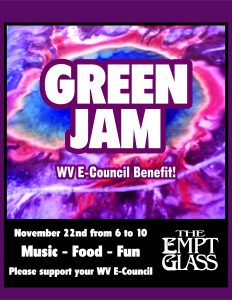 Join environmentalists at the world famous Empty Glass next Tuesday, November 22nd for some great music, a free food buffet, a fun time, and a chance to make a difference! Musical acts include Chet Lowther, Stan Bumgardner, Andy Park, and Kodac Harrison.
Admission, food, and fun are FREE, but donations of $10 or more are highly encouraged!
Help us fight back against a legislature that largely does not believe climate change is real…especially during a time when the Environmental Protection Agency (EPA) may lose its regulatory power. We need every bit of help we can get!
Don't forget to RSVP and invite your friends on Facebook. We hope to see you there!
Yours for the environment,
WV Environmental Council
P.S.  Support our work?  Donate today!