–
Following up on our successful December 2021 event and positive feedback about changing the conversation around climate in Appalachia, back by popular demand is:
Building Bridges: Continuing the Conversation Around Climate Change
Monday, January 31st at noon!
Whether you're already engaging in difficult conversations or don't know where to start, this session will bolster your ability to build bridges in your community around finding common ground on climate change issues. This is the crisis of our time and we need to start finding common solutions to this problem. More people want to talk about climate change than you may think, and you are not alone in trying to address this problem.
We will spend the first half of the session discussing tools for changing the narrative, and then offer a place to problem-solve and discuss tough challenges in your community!
Register Here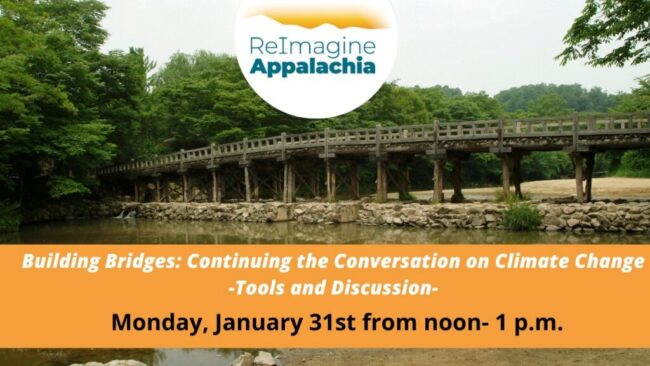 Should you have any questions regarding this event, please feel free to contact Molly Updegrove, Director of Outreach, molly.updegrove@reimagineappalachia.org.
Sincerely,

Annie Regan, ReImagine Appalachia